Getting Here, Parking & Ski Shuttle

Driving Directions
Diamond Peak is located on the scenic north shore of Lake Tahoe, a quick drive from Reno, Carson City, Truckee, or South Lake Tahoe, and only 30 miles from the Reno-Tahoe airport.
Address: 1210 Ski Way, Incline Village, NV, 89451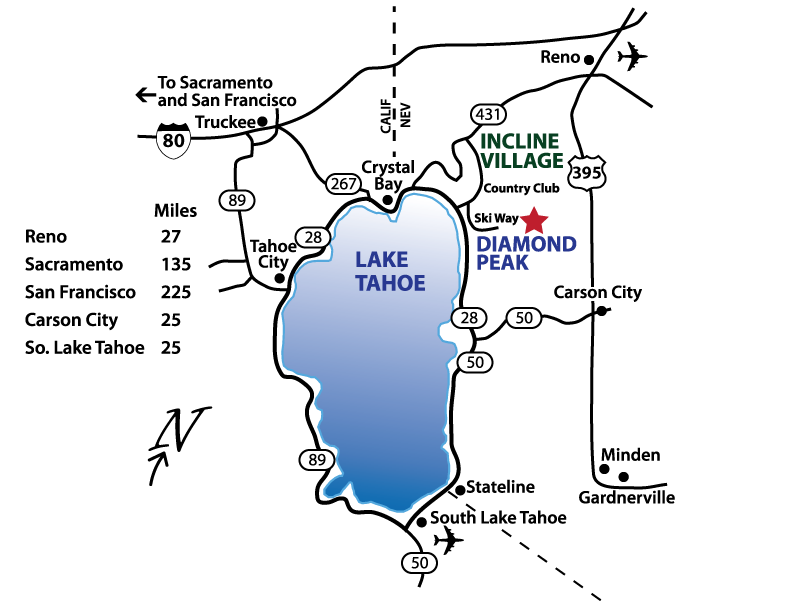 From San Francisco / Sacramento (255 / 135 Miles)
Take I-80 East to Truckee
Take HWY 267 exit to North Shore Lake Tahoe
At HWY 28 junction, turn left, proceed to Incline Village
Turn left on Country Club Drive
Turn Right on Ski Way, follow up to the resort
From Reno (30 Miles)
Take US 395/580 South to HWY 431 / Mt. Rose Highway towards Incline Village
Turn left on Country Club Drive
Turn left on Ski Way, follow to the resort
From Carson City / South Lake Tahoe (25 Miles)
Follow US 50 to HWY 28 junction towards Incline Village
Turn right on Country Club Drive
Turn right on Ski Way, follow to the resort
Parking at Diamond Peak
Diamond Peak is proud to offer some of the most convenient slope-side parking anywhere in the Tahoe region, but the parking lots can get full on busy days.
Parking is free but we do offer paid premium slope-side parking during busy weekends and peak periods, while supplies last.

Premium parking fees for 2022-23 are $30 on weekends and $40 on peak periods.

Please follow all instructions of parking staff.
Check our Mountain Report on the website for updates on parking capacity.
Diamond Peak will be utilizing the parking lots at Aspen Grove and the Lakeshore Drive Overflow Lot when needed. Please see the Parking Options map for directions.
Trams will only stop at designated tram stop locations. Please make your way to a marked tram stop and wait in line to board the tram.
There is no RV parking available at Diamond Peak. All vehicles must fit in a standard size parking space.
There is no overnight parking allowed in Diamond Peak's parking lots.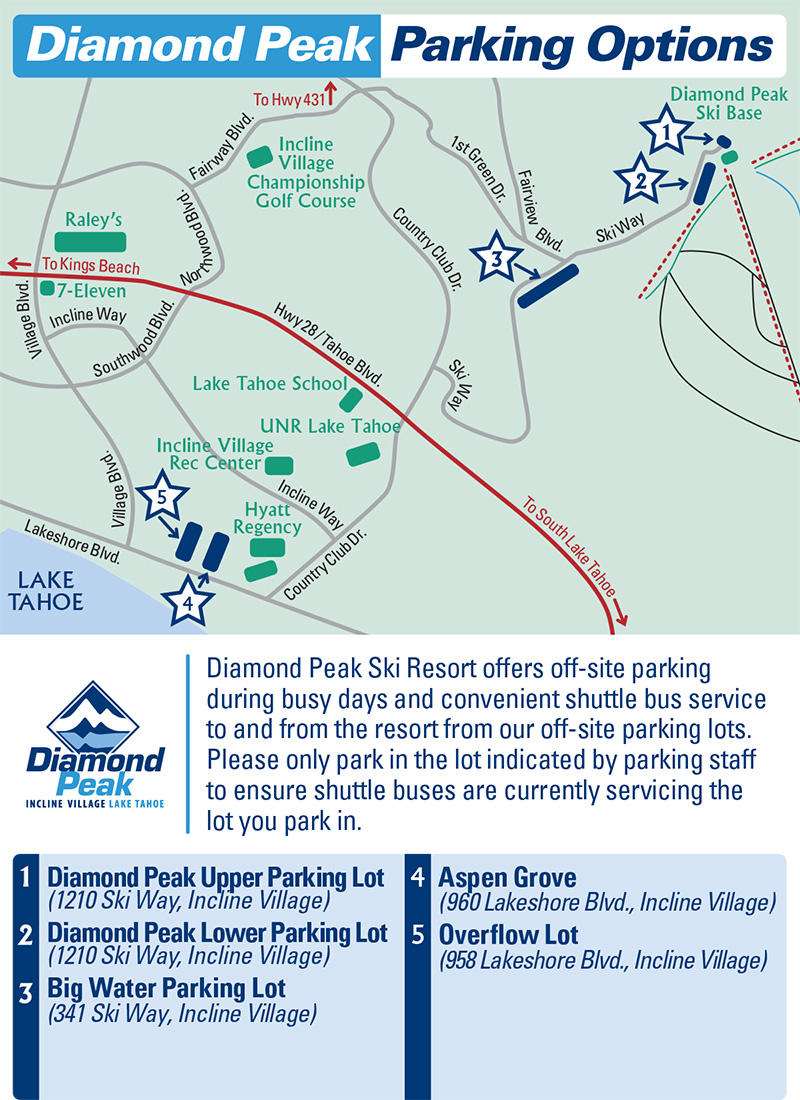 Off-Site Parking Shuttles
These shuttles also service our off-site parking lots on our busiest days. If parking is full at the resort, our staff will direct you to the appropriate off-site lot. Due to limited shuttles and capacity we encourage large families or groups to drop off the majority of your party in the designated zones at the resort and just send the driver to the off-site parking area, if possible. 
Free Ski Shuttle
Ride the Free Diamond Peak Ski Shuttle this winter! It's a great way to carpool, and you get dropped off right at the resort with easy access to the ticket windows and the slopes, during ski season. Morning pick-ups available around Incline Village plus mid-day pickups on weekends and peak periods. Note that there can be slight schedule delays on days when the shuttle requires snow chains.
Taking the shuttle, public transportation, or carpooling are easy ways you can help us keep Tahoe beautiful.
View the Shuttle Map or check the schedule below to find a stop near you. Check the Mountain Report for notifications about delays or cancellations.  
Community Ski Shuttle – Blue Route
Pickup Location within Incline Village
Daily
Weekends & Peak Periods
Village Ski Loft (Lower Lot) - 800 Tahoe Blvd. (SR 28)
8:16
8:16 & 11:16
Creekside East Condos - 845 Southwood Blvd.
8:18
8:18 & 11:18
Forest Pines Condos - Juanita Drive
8:21
8:21 & 11:21
Country Club & Village Blvd.
8:45
8:45 & 11:45
Village & Golfers Pass Road
8:46
8:46 & 11:46
College & McDonald
8:47
8:47 & 11:47
McDonald & North Dyer
8:48
8:48 & 11:48
All Seasons Condos - 807 Alder Ave.
8:50
8:50 & 11:50
Club Tahoe - 914 Northwood Blvd.
8:54
8:54 & 11:54
The Chateau - 955 Fairway Drive
8:56
8:56 & 11:56
Parkside Inn - 1003 Tahoe Blvd. (SR 28)
9:12
9:12 & 12:12
Lakeshore & Tramway
9:14
9:14 & 12:14
Lakeshore & Pine Cone
9:15
9:15 & 12:15
Return trips from Diamond Peak to all shuttle stops begin daily at 2:00 p.m. and continue every half hour until 4:30 p.m.
2023-24 PEAK PERIODS: DEC. 23, 2023 - JAN. 7, 2024; JAN. 13-15, 2024; FEB. 17-25, 2024.
Community Ski Shuttle – Green Route
This shuttle runs every half hour from the Hyatt to Diamond Peak from 8:30 a.m. until 1:00 p.m., stopping across from UNR at Lake Tahoe, Tomahawk/Mt. Shadows, and Burgundy Hill/Lower Tyrolia.
Pickup Location within Incline Village
Daily
Hyatt Regency Lake Tahoe (on the hour and half hour)
8:30am - 1:00pm
Country Club (across from UNR at Lake Tahoe main entrance at the TART stop)
+ 1 min
Ski Way (across from Mt. Shadows)
+ 2 min
Ski Way at Lucerne Way (Burgandy Hill & Lower Tyrolia)
+ 3 min
Return trips from Diamond Peak to all shuttle stops begin daily at 2:00 p.m. and continue every half hour until 4:30 p.m.
Flying
Incline Village is the closest Lake Tahoe community to the Reno/Tahoe International Airport (RNO) serviced by most major airlines and car rental agencies. Once on the ground, follow the driving directions from Reno. Or, jump on the North Lake Tahoe Express airport shuttle with direct service to Incline Village.
Other Transportation Options
TART (Tahoe Truckee Area Regional Transit) operates bus routes that stop throughout Incline Village and Crystal Bay, which connect to the Diamond Peak shuttle route at the Hyatt. Visit TahoeTruckeeTransit.com for more information and bus schedules. The TART Connect service also offers curb-to-curb on-demand transportation around the North Lake Tahoe region. Please see the TART Connect website for details on how to download the mobile app and request a ride.