About Us

Facts & Figures
Diamond Peak
Diamond Peak is located above Incline Village, Nevada, on the north shore of Lake Tahoe. The Tahoe area offers the highest concentration of ski resorts in North America, from world-famous names to hidden gems like Diamond Peak – a community-owned resort known for having Tahoe's best view, best value, and a friendly atmosphere that skiers and riders looking to avoid the big corporate resorts love.

Feel free to reach out to the ski resort, ski patrol, and our Human Resources department for any questions and inquiries. We look forward to connecting with you!
Contact Us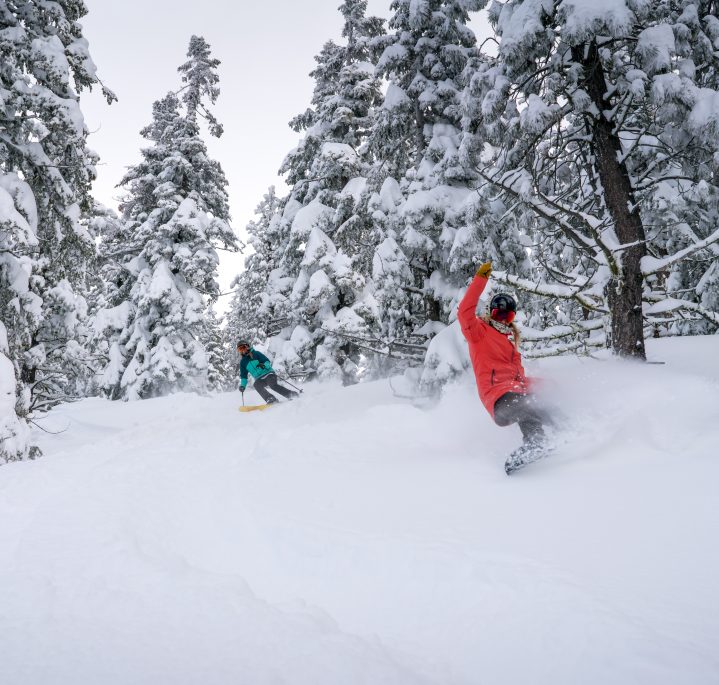 Mountain Statistics
Season: December to April (weather permitting)
Elevation: 6,700ft - 8,540ft (2,042m - 2,603m)
Vertical Drop: 1,840 feet (561 meters) 4th most in Lake Tahoe
Longest Run: 2.1 miles (3.4 kilometers)
Snowmaking: 75% of developed terrain
Skiable Acres: 655
Terrain: 30 runs, open glades, tree skiing
Beginner: 18%
Intermediate: 46%
Advanced: 36%
Terrain Park: The Village Terrain Park
Lifts: 6
Surface Lifts: 1 (exclusive to Child Ski School)
Learn More About Diamond Peak
Facilities & Amenities
Food outlets including Base Lodge Provisions, Wild Bill's BBQ and Snowflake Lodge
Bars: Loft bar, Snowflake Lodge, Million Dollar View Bar, Wild Bill's BBQ, Lightning, & Upper Deck
Ski & Snowboard group and private lessons for ages 7 to adult
Child Ski & Ride Center for ages 3-6
Burton Learn to Ride Center
Tuning and repair shop
Rental shop offering standard skis, snowboards, and demo / performance equipment
Retail and gift shop operated by Village Ski Loft
Lockers, daily and seasonal
Free ski shuttles serving the Hyatt and Incline Village
Facility and room rentals for weddings and group events
Free wifi internet: Base Lodge, Skier Services, Snowflake Lodge
Water fill stations
Electric vehicle charging stations
History of Diamond Peak
1920s: Tourism Hits North Lake Tahoe

In the late 1920s, casino gambling was introduced to the North Shore of Lake Tahoe, and visitors began to make the trek to the mountains to play at the newly opened Cal Neva Lodge in Crystal Bay.

The North Shore remained the private (mainly summer) playground of the famous, the wealthy, and the adventuresome until the 1960 Winter Olympics at Palisades Tahoe (formerly Squaw Valley) put the Lake Tahoe region on the map. Interstate 80 was built, linking Sacramento with Reno, and the masses could then be welcomed year-round to Lake Tahoe.
1960s: The Birth of Incline Village and Ski Incline

Art Wood, an entrepreneur from Oklahoma, and his associate Harold Tiller envisioned the creation of Incline Village -- a master-planned vacation resort community on the northeastern shore of Lake Tahoe. Ski Incline, now known as Diamond Peak Ski Resort, was one of Art Wood's cornerstone recreation amenities in his master-planned "Pebble Beach of the Sierra." In 1966, Luggi Foeger, a renowned Austrian-born ski resort consultant, was hired to design and build the resort.

Ski Incline was originally proposed on the slopes of Rose Knob Peak (the flat-topped peak to the north of Incline Village); however, Foeger recognized immediately that Rose Knob Peak would never work as a ski area due to both its lack of beginner and intermediate level terrain and the south-facing orientation of the slopes (meaning it received too much sun during the winter for a dependable ski season). After exploring the peaks and ridges around Incline from all angles (by plane, by snowmobile, and his favorite, by foot with his dog), Foeger chose the current location of the resort because it had an excellent variety of terrain, a north-northwest aspect, is easily accessed from the center of Incline, and offers beautiful views of Lake Tahoe.
1966: Pioneers of Snowmaking

Art Wood put his faith in Foeger and committed $2 million to build Ski Incline. While everyone in the ski industry predicted failure, Foeger's vision turned out to be even more profound, since his new ski area was designed to include the first snowmaking equipment in the western United States. With the installation of snowmaking technology, Ski Incline became the first resort in the West to employ this insurance policy against Mother Nature's stinginess. Time and again, during drought and late-snow years, these systems have enabled the resort to create a top-quality ski experience. Soon many other Tahoe area resorts followed suit.

When Ski Incline opened its doors on November 19, 1966, just four months after construction began, it featured three chair lifts, a T-bar surface lift, and snowmaking equipment.
1980s: Expansion to Diamond Peak

The ski industry grew, and more and larger resorts sprang up throughout the Lake Tahoe region, but little Ski Incline continued to serve its community admirably. The upper mountain, which remained undeveloped, "was magical and had to be experienced by all," said former Ski Incline General Manager, Jurgen Wetzstein. "We used to say the view from the top is one of the most spectacular views in the world," said Wetzstein.

In 1985, after many debates, the community was finally convinced that it was time to make this view of Lake Tahoe accessible to all who visited and skied in Incline Village. After painstaking research, more than a hundred public meetings, and numerous reports, an expansion plan was developed and received the community's blessings. Ski Resort Manager Jurgen Wetzstein led the development of the upper mountain and oversaw the addition of the mile-long Crystal Quad chairlift to reach the top of the peak. This expansion doubled the resort's skiable acreage and added more advanced terrain. The resort extended its snowmaking system to cover the upper mountain and added more grooming equipment.

Because its skiing terrain changed so dramatically with the addition of mostly advanced runs on the upper mountain, the resort's name was changed to "Diamond Peak at Ski Incline," alluding to the industry's "black diamond" symbol for advanced ski terrain. As time passed, the name "Diamond Peak" stuck and "Ski Incline" was retired to the history books.
2000s: Turn of the Century

With the turn of the century, Diamond Peak embarked on a two-part, $8.5-million dollar capital improvement project. In 2002, it again expanded and improved the snowmaking system to permit snowmaking capabilities on 75 percent of developed terrain. The mid-mountain Snowflake Lodge was also renovated and expanded with a new wrap-around deck featuring panoramic views of Lake Tahoe and the Sierra Nevada mountain range.

In 2003, Diamond Peak replaced its old Crystal Quad chair lift with a new, high-speed detachable Crystal Express quad to the top of the mountain. The $2.8-million-dollar investment replaced the outdated 16-year-old chair with new technology and cut the ride time in half, getting skiers and boarders to the 8,540' summit in just five minutes.

In 2008, Diamond Peak spent $4 million dollars renovating the base lodge which included an expanded rental shop, Loft Bar, and a 300-square foot outdoor patio, in addition to the existing wrap-around sun deck, a 300-square foot meeting room, new restrooms, fixtures, siding, and more. In the summer of 2009, Diamond Peak rebuilt its snowmaking system to allow for more efficient snow production. In 2010, Diamond Peak completed a large renovation project with a new Skier Services Building, featuring a plaza area, ticket windows, Child Ski Center, Ski Patrol, and offices.
Present Day: Master Plan Update

Diamond Peak continues to make improvements to its snowmaking systems to maximize snowmaking capacity and efficiency. In 2013 the resort began the process of updating its Master Plan to revisit the potential for future development and to introduce summer activities. The Master Plan was presented to the Incline Village General Improvement District Board of Trustees in 2015. At that time the board voted to approve the amended Diamond Peak Master Plan and send it along to the Tahoe Regional Planning Agency (TRPA), the United States Forest Service (USFS), and Washoe County for environmental clearances and review. Click here to read more about the Master Plan update process and how you can be involved.