Village Terrain Park
Terrain park riders, as well as those new to terrain park features, will find innovative and progressive features to ride in the Village Terrain Parks at Diamond Peak. Diamond Peak's park crew will craft creative parks filled with jumps, jibs, rails and boxes for all ability levels.
"We're trying to create more than just a terrain park here at Diamond Peak," said Billy Biggers, Diamond Peak's Assistant Slope Maintenance Manager and Terrain Park Builder. "We want to build this into a place where you can feel a part of something… part of a community."
The new Village Terrain Park locations allow park riders to explore more of the mountain before taking a lap through the park, or simply enjoy quick park-only laps via the Red Fox chairlift. The Village Terrain Park is located on Spillway, Wiggle and the bottom of Popular..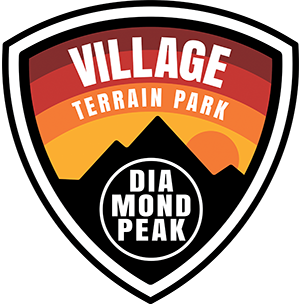 View the Trail Map to see where Diamond Peak's terrain features are located. All terrain parks and features are snow and conditions permitting.
Jump Start Zone Mini-Park
Build your confidence and learn the basics in the Village Terrain Park Jump Start Zone, located at the bottom of Popular. Features are low to the ground with gentle landings and there's a mellow vibe focused on fun. Hike along the edges to session the Jump Start Zone again and again to hone your park skills. After mastering these features, you can step up to The Village South on Wiggle and then work your way up to the other Village Terrain Park Zones.
Join the Village Community
There are many ways to be a part of what we're building with the Village Terrain Park…
Tag @villageterrainpark on your own Instagram posts and stories
Send us a direct message on Instagram with any ideas or input
Send photos to photos@diamondpeak.com
Share the stoke on your favorite ski/snowboard forums
Come out and ride all the new features
Terrain Park Etiquette 101
Watch others: People watching is fun; people watching in the terrain park is better.
Check out the features first: Before you get your stunt on, take a look at what you are getting yourself into.
Know where to start and finish: With every beginning there is an end, get your story straight.
Wait your turn: Don't be a snake, you can wait.
Clear landings quickly: It happens, we fall, but get out of the landing as quickly as you can.
If you don't know, ask: We're all friends here, ask away.
Park Smart Terrain Park Safety Tips
Safety is essential when skiing or riding the parks or natural features around the mountain. Always warm up, work your way up, and follow the Smart Style/Park Smart tips to stay safe and have fun!
START SMALL – Work your way up. Build your skills.
MAKE A PLAN – Every feature. Every time.
ALWAYS LOOK – Before you drop.
RESPECT – The features and other users.
TAKE IT EASY – Know your limits. Land on your feet.
For more tips and information visit,www.TerrainParkSafety.org
VTP Videos from our Fans