Steeps & Stashes

More vert/pow/runs than you were expecting
We get it – at 655 skiable acres, Diamond Peak sounds pretty small compared to some of the corporate mega-resorts in the Tahoe Basin. But don't let our modest (by Tahoe standards) skiable acreage fool you, there's more than enough terrain for ALL TYPES of skiers and riders, whether you're cruising groomers all day, or chasing untracked pow in the glades. Check out a few statistics:
Vertical Drop
1,840 feet (561 meters) – those are big-mountain numbers! In fact, the independent website MountainVertical.com ranks Diamond Peak 4th in the Tahoe region for "True-Up Vertical" (their measure of a resort's actual skiable/rideable vertical drop). So yeah, we may be small, but we're tall and skinny.
Runs Per Hour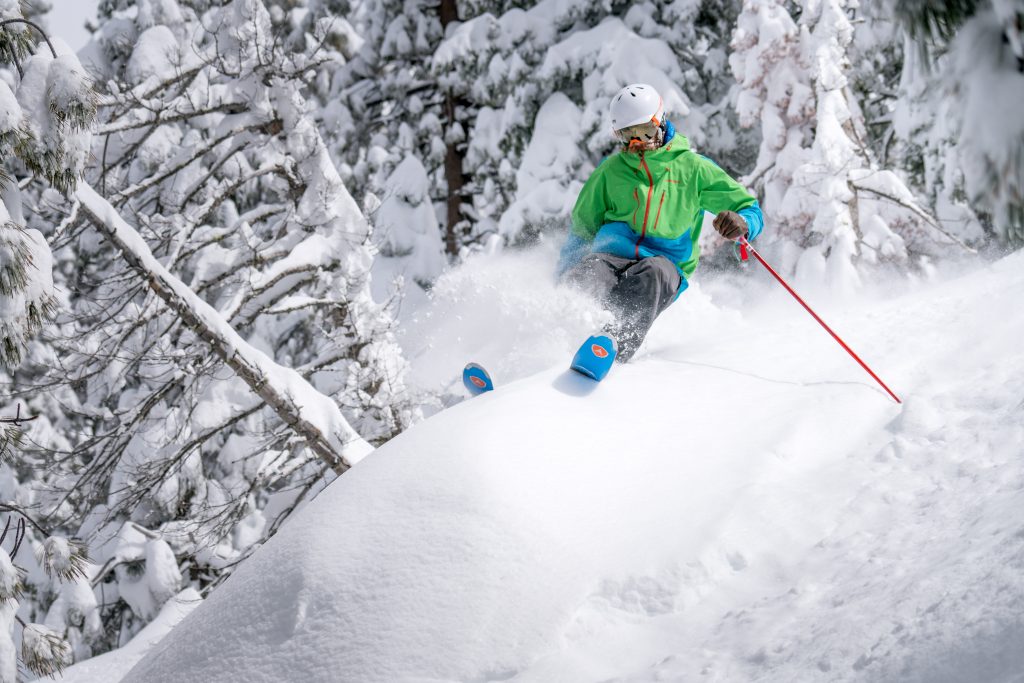 You want to spend more time making laps and less time waiting in lift lines? The Crystal Express chair might just be your ticket to heaven. Responsible for 1,475ft (450m) of that 1,840 vertical feet total, the high-speed Crystal Express quad offers access to steep groomers like Lightning, Diamondback, Battle Born and Luggi's, gladed tree runs off Crystal Ridge, and the chance to explore Solitude Canyon. And even on the busiest days, you'll never find more than a short lineup at the bottom.
Gladed Tree Skiing/Riding
The best tree runs in Tahoe. That's a big claim, but it's one we're sticking to. Diamond Peak offers 655 skiable acres, and almost 500 acres of that is gladed tree runs. These glade zones, the areas of tree skiing off the main trails, are the place to be on storm days and when you want to escape into your own winter world.
This winter, see if you can explore all of the glade zones when conditions are right and let us know which is your favorite. Just be safe, ski/ride with a friend, and observe all posted closures please.
G1 – The Crown Jewels (formerly The Glades)
G2 – Bonanza
G3 – Promised Land
G4 – Rollerglades
G5 – Glade Runner
G6 – Elevator Shaft
G7 – Area del Fuego
G8 – Boarder Line
G9 – Gnarnia
G10 – Nirvana
G11 – Outer Limits
G12 – Cappy's Corner
G13 – Zig Zag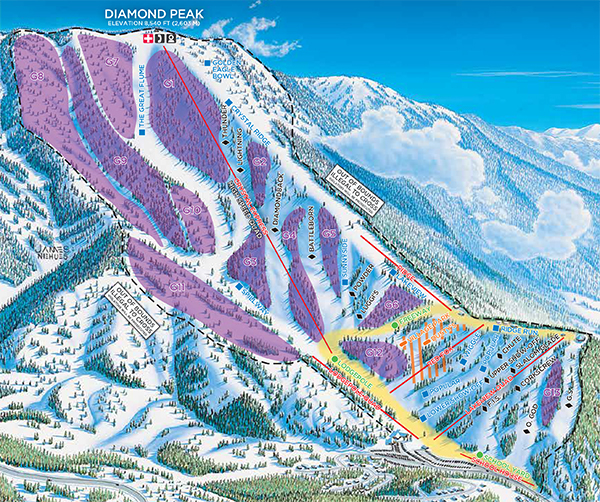 Get a quick preview of some of the fun spots you'll find on the mountain with our Steeps & Stashes video series: